CONTEMPORARY CABINETMAKING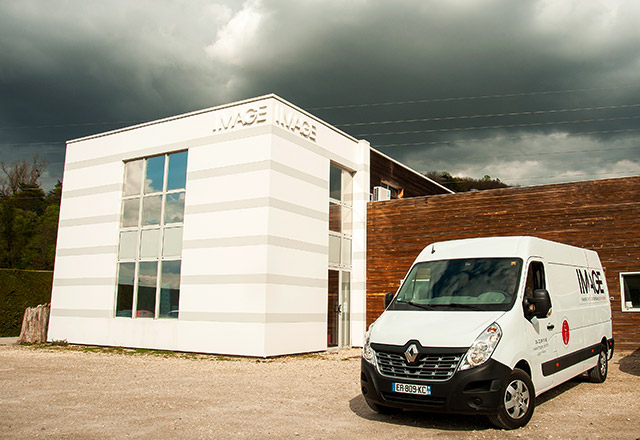 Contemporary cabinetmaking, labeled Living Heritage Company by the State (EPV) since 2012 for our Wood and Corian® activities, we are one of the French leaders for the transformation of Solid Surface (mineral resin). Member of the Quality Network of Dupont de Nemours, creator of Corian®, we design and manufacture furniture, objects and external cladding in Corian® and we are also creator of high-end solid wood furniture. Since 1983, IMAGE has been supporting renowned architects, decorators and designers in their high-end projects for the professional, public and private sectors.
We operate in France and abroad in different 3 areas:
Custom-made or mass production of furniture, objects and layout in Corian®
Expertise and quality of execution place IMAGE on Luxury projects, where excellence is required. From residential project (kitchen, bathroom and high-end furniture) to the hospitality market (washbasin, shower), commercial layout (reception desk, partition, sanitary …), medical industry or equipment in clinic and hospital, the projects are varied and our job begins with measurement and finish at the installation.
All our achievements in Corian®
Wood
Thanks to an exclusive patent that enables wood to be made water and air resistant, IMAGE makes all solid wood furniture especially for damp rooms (plan, washbasin, bathtub …). 30 years of hindsight provide our products with incontestable quality and durability.
Discover our know-how in contemporary cabinetmaking
External cladding
IMAGE is now one of the three companies in France to make external cladding in Corian®
Since 10 years, IMAGE has covered houses, public and private buildings with Corian® cladding or sun-breakers. In collaboration with renowned architectural firms and general building companies, we design external cladding with a strong aesthetic signature and outstanding environmental qualities.
Company history
1983
Company creation by Christophe Isaac in 1983
1988
Purchase of the first digital-controlled machining centre
1990
Acquisition of a patent for the waterproofing of wood, manufacture of solid wood basins and bathtubs. The company exports to Germany, Japan, Middle East, USA and Russia
1991
The IMAGE team is selected and trained by DuPont to be a Certified Corian Fitter
2002
Qualipem approval in accordance with ISO 9001
2009
ECO Conception procedure with Ameublement Français (Furniture Manufacturing Union) and the Rhône Alpes region
2010
Expansion of premises with a showroom
2012
Obtaining the EPV label : Living Heritage Company
2013
Purchase of a Homag 5 axis digital control machining center
2015
Obtaining CSTB approval for the manufacture of Corian® external cladding
2016
Realization of the first external cladding in Corian®: The SILEX building (2000 sqm) in Lyon
2018
Acquisition of IMAGE by the SAGE Holding. Hervé HOFF becomes the general manager of the company
A proactive team
A cohesive team of 30 people manages the various stages of the projects, from the manufacturing to the installation. And this in our office in south of Lyon, and in our sales office in Paris.
Answer to quote are made quickly thanks to optimal price calculation tools.
From 10 years, IMAGE has been one of the largest certified Corian® fitter in France. Our volume of business allows us to obtain the best purchasing conditions. It is through this constant optimization of logistic flows and the rationalization of its production that our company is able to offer its customers the best quality-price ratio on its services and can maintain unchanged prices.
Quality and customer satisfaction are in the heart of our concerns
The Research department provides technical advices for complex and innovative projects.
The project team regularly adjusts the production schedule to the customer's deadline constraints.
Our companions, beyond their training in cabinetmaking or layout, are regularly trained internally in the technical processing of Corian®.
A loyal team of meticulous installers specialized in fitting and finishing Corian®.
The company has more than 25 years of track record in processing and thermoforming Corian®.
As a certified Corian® processor and member of the Quality Network, Dupont guarantees our manufacturing for 10 years.
Production tools
In order to assure the expected quality level by our customers, we equipped the workshop with the latest technologies. At IMAGE, innovation comes as soon as the template is taken (3D digital feeler usually used in the aerospace and defense industry). We also are equipped with ovens and vacuum presses. We have two digital-control machines: a 3 axis and a 5 axis for the realization of our own molds and to model very complex parts.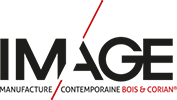 "The essence of a project is the perfect harmony between the aesthetic, the useful and the just "
Frank Lloyd Wright
You have a project, an idea, a question: